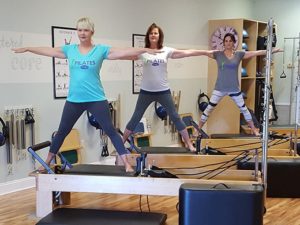 Pilates Fitness Classes for Gulf Breeze, Navarre, Pensacola, and Pensacola Beach, FL!
Pilates by Val is a fully equipped studio in Gulf Breeze. We work with clients who have special health issues such as herniated discs, sciatica, bulging discs, arthritis and more.  We also specialize in high quality Pilates classes in our studio, offering private sessions and group classes with the Pilates machines as well as providing Pilates mat classes.
A wide variety of Pilates equipment is used in our Pilates equipment workouts: Pilates Reformer, Pilates Trapeze Table, Pilates Cadillac, Pilates Chair, Pilates CoreAlign, Pilates Tower, Pilates Ladder Barrel, and Pilates Spine Corrector.
Equipment used in our Pilates mat classes include the following: Pilates Ball, Pilates Flex Ring, Pilates Orbit, Pilates Fletcher Towels, and Pilates Oov.
All Pilates by Val instructors are NCPT certified, and our mission is to offer high quality and dynamic customized Pilates fitness plans that get superior results